TRE FOR ALL's Humanitarian Work:  Below is an example of some of the volunteer, humanitarian relief work members of the TRE team have accomplished to date
TRE Scotland supports the work of TRE Nepal to train community faciltators – Find out all about this great project which currently helps people in Nepal recover from the ongoing trauma expererienced as a result of the Nepal Earthquake disaster on the TRE Nepal page
(on the drop down menu underneath the outreach tab)
 Natural and man-made disasters
• Sichuan earthquake, China, 2008  – TRE was taught to hundreds of child survivors of the earthquake in China.
• Tsunami Japan 2011 and since – TRE was taught to 1000's of people in Sendai, Fukushima and Yokohama
•Hurricane Yolanda, Philippines, 2012 –  TRE was taught to over 3000 people in 2014 and certified 250 new TRE Provisional Providers.
• Air Asia Flight QZ8501 crash, Surabaya, Indonesia, 2015 – TRE is being taught to 50 members of the volunteers counsel.
• South Africa, California & Australia – TRE was taught to hundreds of victims of natural disasters including floods, earthquakes and wildfires.
• Survivors of crimes & domestic and social violence
• Sandy Hook High School, Newtown, Connecticut, USA  2012  – TRE was taught to several dozen people affected by the shootings.
• US military and their families
• US Military Troops – TRE was taught to thousands of US military troops.
• Additional TRE humanitarian efforts have been made, and will continue to be made with the following identified populations and target groups:
•  Those who have been  marginalized, disenfranchised or considered less valuable by society due to their financial, social or educational status
•  Those identified with stress disorders and PTSD
•  US military & their families – active forces and veterans with a particular focus on the homeless with PTSD diagnosis
•  First responders – police, firefighters, medical personnel – active and veteran
•  Survivors of terrorism and war
•  Survivors of natural disasters
•  Survivors of crimes & social and domestic violence
•  Juvenile offenders identified as having a trauma history
•  Prisoners
•  Those who live in inner city high-crime areas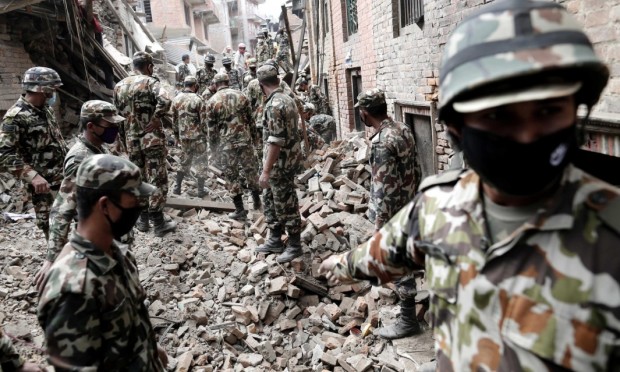 RISKS AND CHALLENGES
As with all disaster relief programs, many are eager to help, but, in order to maximize outcomes there needs to be a measured, coordinated response administratively and on the ground.  Nepal has a unique set of cultural mores which must also be honored. This means that TRE-HSA must be nimble and fluid in its  planning. An identified risk, is that it is hard to predict precise outcomes at this time. According to experts on the ground, it will be a long sustained campaign installing TRE into the culture to support years of recovery.
A possible positive risk is that we raise more money than we resources to dispatch at this time. If this should happen, TFA would like to hold the money in reserve to be used specifically and solely for other humanitarian relief programs